Fideuram
Fideuram is among the key private banking players in Italy thanks to its exclusive model that combines dynamism and ambition of more than 5,000 private bankers, as well as the strength and stability of a true bank.

Fideuram is a true landmark in this industry: 640,000 clients with asset under management of over 96 billion Euros.

Deeply rooted at local level, it ranks first among the financial advisory networks in Italy, fourth in terms of Private Banking and sixth among traditional banks.


For further information about Fideuram visit www.fideuram.it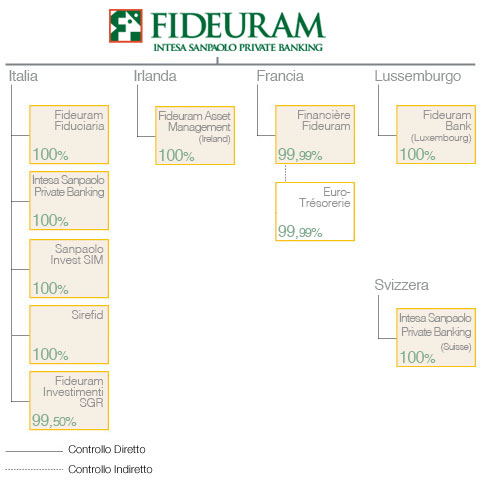 DATI SOCIALI



Fideuram - Intesa Sanpaolo Private Banking S.p.a.
Piazzale Giulio Douhet, 31
00143 Roma
Tel. 06.59021
Fax 06.59022634

Capitale Sociale 300.000.000,00
Registro delle imprese di Roma
Codice Fiscale e P.IVA 00714540150
Numero di iscrizione Albo Banche 1175
Codice ABI 3296.1
Aderente al Fondo Interbancario di Tutela dei Depositi e al Fondo Nazionale di Garanzia
Appartenente al Gruppo Bancario "Intesa Sanpaolo"
Iscritto all'Albo dei Gruppi Bancari
Socio Unico, Direzione e Coordinamento: Intesa Sanpaolo S.p.A.